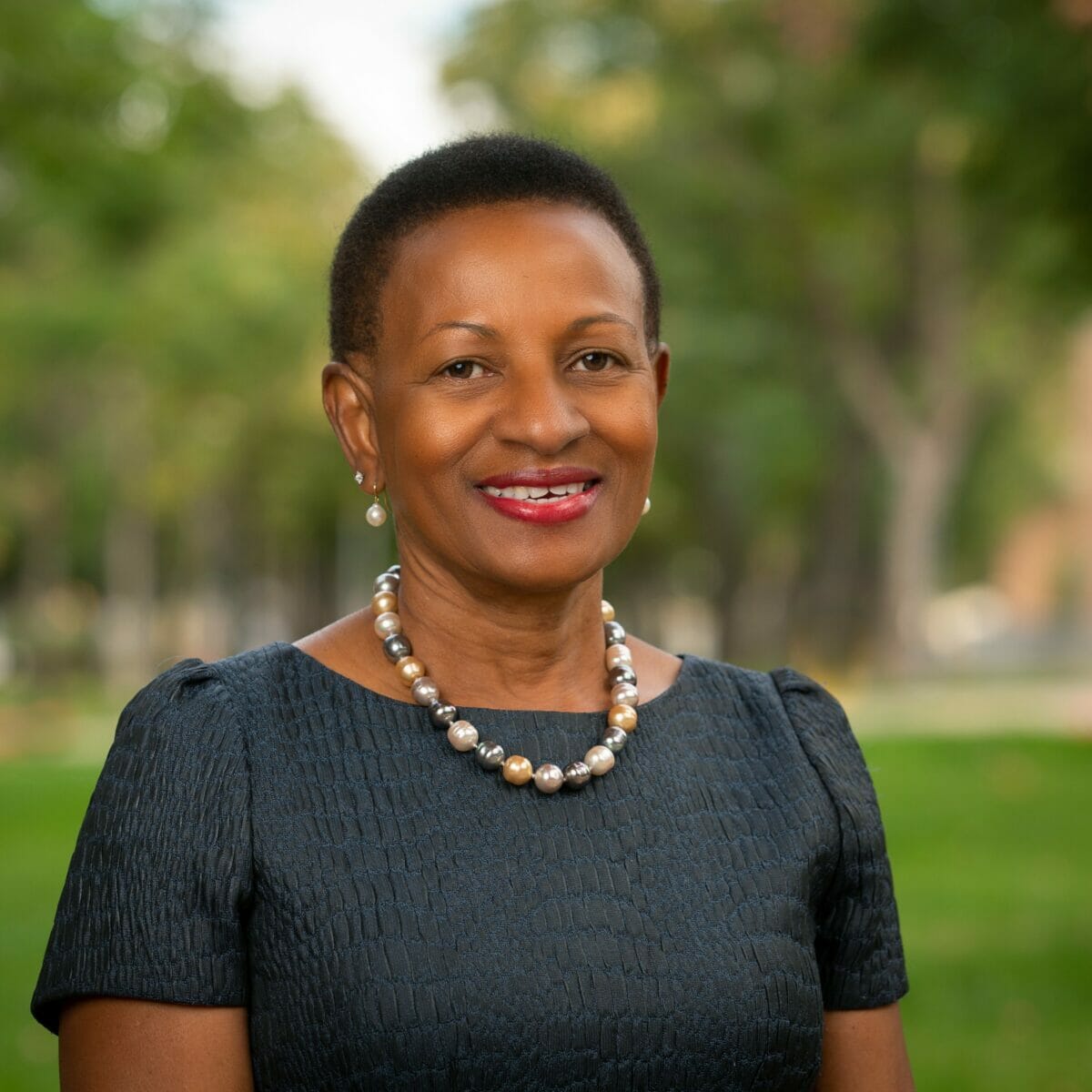 Deborah Deas, MD, MPH, is Vice Chancellor for Health Sciences, the Mark and Pam Rubin Dean of the School of Medicine, and Professor of Psychiatry at the University of California, Riverside (UCR).
Under her leadership, the UC Riverside School of Medicine has seen tremendous growth in its medical education, biomedical sciences, and clinical enterprise programs.  Dr. Deas would be the first to tell you that these achievements, and more, are a result of a dedicated team of professionals working with a variety of partners to help the School of Medicine fulfill its mission to improve the availability of health care for people in underserved Inland Southern California communities.
Since arriving in 2016, Dr. Deas has led efforts to increase the class size of UCR School of Medicine's medical and biomedical sciences programs, expand clinical affiliations, develop and expand the UCR Health clinical enterprise, and increase National Institutes of Health (NIH) funding as well as private giving.
Working in partnership with University of California leadership and state legislators, Dr. Deas helped to secure state funding for a new medical education building on the UCR campus. The building is scheduled to open in 2023.
Dr. Deas also has overseen the buildout of lab space in the School of Medicine Research Building and, in 2021, the opening of the new Clinical Skills and Simulation Suite, a 10,000-square-foot medical education facility that allows students to receive hands-on training in a safe simulation environment.
In 2020 she led the effort to secure an ongoing commitment of annual state funding to support the operational expenses for the school, working extensively with Assemblyman Jose Medina and State Senator Richard Roth to make the much-needed funding a reality.
In March 2021, the School of Medicine was recognized by U.S. News and World Report's 2022 Best Grad School Rankings as No. 6 in the nation for diversity, with 34 percent of its 299 medical students and 32 percent of biomedical sciences students coming from underrepresented minority communities. Impressed by this commitment to student diversity, the California Wellness Foundation awarded a four-year grant to the school to help expand training efforts for underrepresented minority students to be physicians.
Dr. Deas has been honored with several national awards in the areas of diversity and inclusion, including the 2017 Giving Back Award from INSIGHT Into Diversity magazine, which honors college and university administrators who go above and beyond their everyday leadership duties and give back to their campuses and communities. In 2019, the UCR School of Medicine was awarded one of 13 National Institute on Minority Health and Health Disparities Center grants in recognition of the school's achievements under her leadership.
In 2022, Dr Deas was elected to the National Academy of Medicine, which advises the nation on issues of health, health care, biomedical sciences, and technology. It was just the latest of a variety of accolades and awards that she has received at the national, regional, and local levels, including certificates of recognition from the California State Senate, the California State Assembly, and the County of Riverside (2020), the Woman of Action Award from the Riverside City Council (2020), the National Hispanic Health Foundation Award in Medicine (2019), and the NAACP Riverside Branch #1059 Medicine award (2019)
Dr. Deas is a strong advocate of the accomplishments of women in the fields of medicine and science, with an emphasis on highlighting the important gains toward equality made by women and addressing the systemic obstacles and gaps in compensation and representation that women still face.
Outside of her leadership duties at UCR, Dr. Deas serves on the Board of the California Institute for Regenerative Medicine (CIRM).  She is a member of several Association of American Medical Colleges (AAMC) committees and groups, including the Administrative Board of the Council of Deans, the Group on Diversity and Inclusion, the Group on Education Affairs, and the Group on Student Affairs.
Dr. Deas previously served as the interim dean of the College of Medicine and professor of psychiatry at the Medical University of South Carolina (MUSC). During her tenure at MUSC, she served as senior associate dean for medical education, chief academic officer, and associate dean for admissions. She was the founding director of the Adolescent Substance Abuse Program at the MUSC.
Originally from Adams Run, South Carolina, Dr. Deas earned her Bachelor of Science degree in Biology from the College of Charleston in 1978 and her Master of Public Health degree from the University of South Carolina in 1979.
She earned her MD from MUSC in 1989, then completed her residency in adult psychiatry, followed by fellowship training in child and adolescent psychiatry as well as addiction psychiatry. She is board certified in each of the three specialties. She also completed a National Institute on Alcohol Abuse and Alcoholism (NIAAA) substance abuse research fellowship.
Her research interests include pharmacotherapy and psychosocial treatments of adolescents and adults with substance use disorders, attention deficit hyperactivity disorders (ADHD), and anxiety disorders. She has received NIH funding (R01) as well as industry funding for her research, has published articles in several peer-reviewed journals, and has won multiple awards and honors for her work.
Dr. Deas is a fellow with the American College of Psychiatrists and the American College of Neuropsychopharmacology. Other affiliations include the American Psychiatric Association Council on Addiction, the American Academy of Child and Adolescent Psychiatry, the National Medical Association, the American Psychiatric Association, the Research Society on Alcoholism, and the International Society for Biomedical Research on Alcoholism.